BeamLab is an award-winning set of simulation tools for beam propagation through optical devices and waveguides in your familiar MATLAB® environment. Examples encompass a large variety of propagation scenarios for both bulk and waveguide optics including lenses, gratings, apertures, couplers, splitters, multiplexers, and modulators.
New release v1.1: Now with material database and parallel computing (September 2017)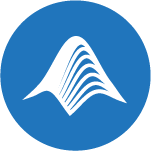 MATLAB® Environment
Intuitive user interface based on the powerful MATLAB® environment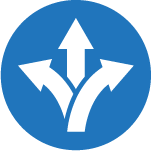 Flexibility
High flexibility in waveguide design and post-processing of any output data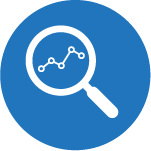 Powerful Graphics
Extensive visualization options for videos and print-ready plots
Unlimited Plotting Options
Simple Coding
The following few lines of code produce a video that shows the light vortex in a multimode fiber generated by a Gaussian beam at oblique incidence and slightly offset from the fiber axis.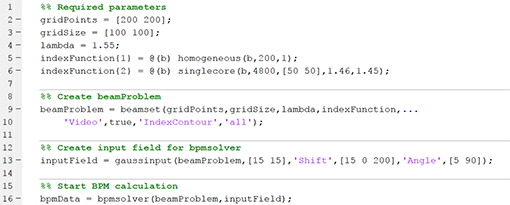 Key Features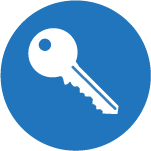 MATLAB® toolboxes implementing a Beam Propagation Method (BPM) solver and a waveguide mode solver
Intuitive user interface based on MATLAB® – no hassle with learning a new proprietary language
Full-vectorial and semi-vectorial beam propagation and mode analysis based on the finite difference method
3D or 2D analysis
Wide-angle and nonlinear beam propagation
Different types of boundary and symmetry conditions
High flexibility in waveguide and input field design with steadily growing library of easy-to-use functions
High flexibility in implementing various parameter sweeps and optimization problems1
High flexibility in post-processing and editing any output data and graphs to your liking
Parallel computing using multicore processors and computer clusters2
Extensive plotting and visualization options
Platform-independent (Windows, macOS, Linux)
For advanced optimization problems BeamLab supports the MATLAB® Optimization Toolbox™.
Requires MATLAB® Parallel Computing Toolbox™.
Applications
Your Benefits
Flexible licensing models: Buy BeamLab for 3, 6, or 12 months or as a subscription.
Priority support: As a customer you will receive priority support, first in line!
30 day money back guarantee: Should you not be fully satisfied with BeamLab you will receive a full refund.